Pride Risk Workers Insurance offers high-hazard workers' compensation coverage.
Together with Southeast Personnel Leasing, Pride Risk Solutions offers a workers' compensation program for your hard-to-place risks. We have over 40 years of financial knowledge and training, enabling us to create client-specific solutions.
Pride Risk insures high-risk clients in a variety of sectors. Several of the most frequently used governing codes are covered by this solution, including the following:
Intensive Construction (Excluded in NY)
Manufacturing
HVAC/Sheet Metal Fabrication/Masonry/Landscaping
Plumbing / Electrical / Painting
Bakeries / Food Processing
Hospitality
Operations of Warehouses
Transportation / Trucking / Furniture Movers
Refrigerated Storage
Staffing for Retail / Wholesale (Excluded in NY)
Operations During the Season (Advised Upfront)
Cleaning Services / Property Management / Residential Cleaning
Businesses that meet the following criteria may significantly benefit from Pride Risk's specialist high-risk workers' compensation coverage:
Segments of the Economy at Risk
Experience Modifiers greater than 1.00 Coverage Cancelled / Non-Renewed / Gap in Coverage
Significant Losses / Inadequate Claims Experience
There are few or no alternatives to the State Insurance Fund
Pride insurance protects an employee who gets wounded on the job. The insurance company may pay workers compensation directly or may give Pride Risk Workers Compensation Quotes to the representative of the injured employee. A worker may get several Pride Risk workers' compensation estimates from various insurance providers.
Each quotation is a document submitted to the insurance provider that specifies the coverage limits, the claim process, and any additional costs that may apply. Many of these estimates are customized to suit the unique requirements of particular businesses and may therefore be very helpful in choosing the appropriate level of insurance coverage.
Each Pride Insurance business provides unique benefits to its Pride covered workers. One such incentive is Pride Points, which are gained when an employee is assigned to a floor supervisor. When a Pride employee participates in a Pride activity or initiative, they receive Pride Points. Employees who accumulate a sufficient number of Pride Points toward a specific sum are eligible for cash rewards.
Injuries can be frequent in the workplace. This highlights the critical importance of worker safety. Worker's compensation assists employees in addressing financial concerns that arise as a result of being injured on the job. To qualify for financial assistance, you must meet certain criteria and submit a legitimate claim. If an employee has an accident on the job, they may file a claim for workers compensation benefits to compensate for various kinds of lost earnings and medical expenses.
Certain conditions must be fulfilled in order to qualify for these benefits:
You must be employed -The injury happened on business premises or while performing work-related duties (including commuting)
The accident was not the result of deliberate acts
Why Get a Quote from SouthEast Personnel Leasing?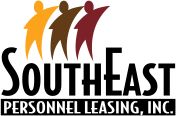 Growing National Coverage
Lion Insurance Company Rated A (Excellent) By A.M. Best Company
State National Insurance Company Rated A (Excellent) By A.M. Best Company
SouthEast Personnel Leasing, Inc
2739 US-19 Holiday, FL 34691
Call (800) 966-5562